Jerry King cut his artistic teeth copying bird illustrations in colored pencil as a boy. He spent many hours observing then drawing the natural details of rural Ohio. Set designing and painting made him "work large" — and quickly. He earned a BA in studio art from Kenyon College. Graduate work in art history deepened his appreciation for painting styles from a wide variety of times and places. One summer he painted wall murals for a living, and he had a graphic design and illustration business for some years.
Jerry has spent time living in Haiti and China, the inner city, Midwest countryside and Blue Ridge Mountains. He is married and the father of six interesting children. Vocationally, he has served as a teacher, pastor and coach/mentor.
Scenic Design
August: Osage County
Tracy Letts' Weston family home is disintegrating, emblematic of the family itself. The action calls for seven different playing spaces, all simultaneously visible: living room, dining room, study, front porch, kitchen, upstairs hallway and attic. The hot, desiccated color palette visually parched the audience throughout the show and subtly hinted at the condition of Weston family relations.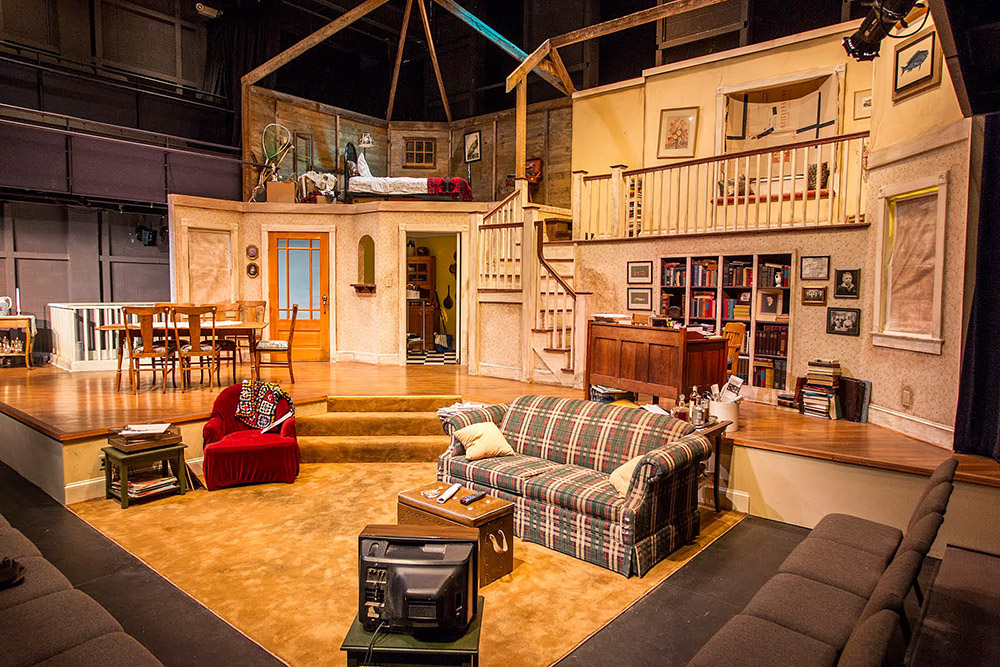 .
.
Vanya and Sonia and Masha and Spike
In a narrow thrust stage space, we built the sunroom of a Bucks County century house, the space in which a brother and sister are slowly ossifying. But the "call of the wild" is also a potent element running throughout the story, so we wrapped the domestic interior in the vegetation and light of the great outdoors, beckoning the siblings to shuck off their regrets, bitterness, failures and inhibitions and take a flying leap into the present moment, come what may.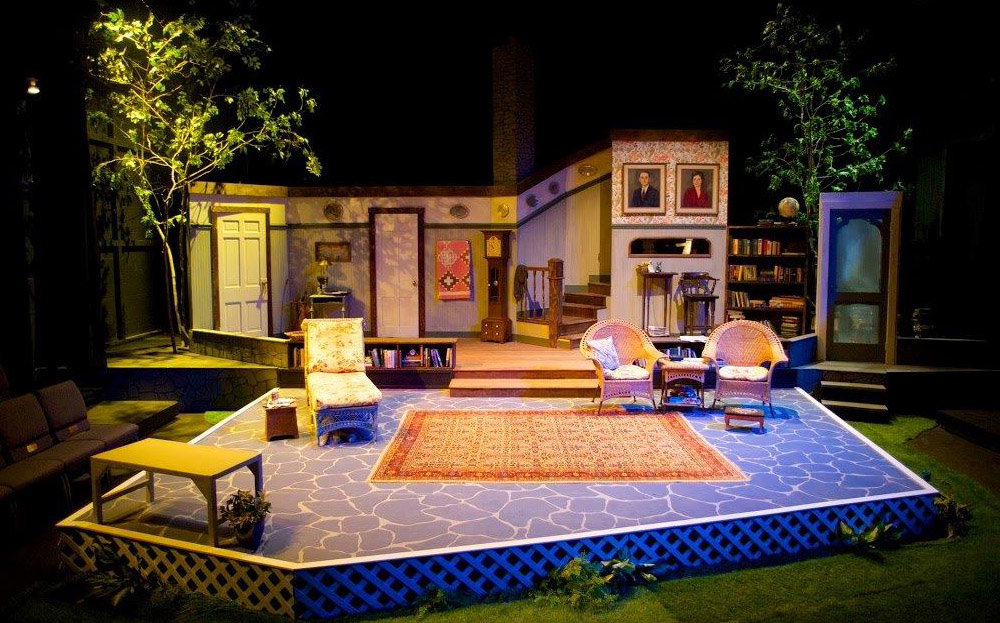 .
.
An Inspector Calls
This North Midlands English dining room filled the small stage. The burgundy red velvet stage curtains became part of the set, drawn back like a Vermeer painting.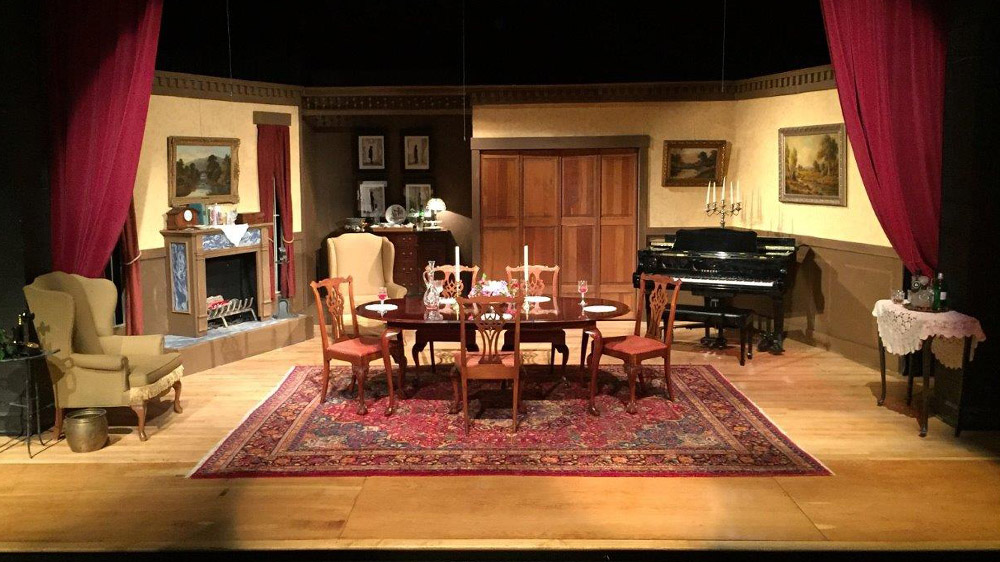 .
.
You're a Good Man, Charlie Brown
Bringing a 2-D comic strip to 3-D life, we built and painted the set to be halfway in between: oversized, flat-painted drawings in space. Lots of primary colors, green grass and blue skies.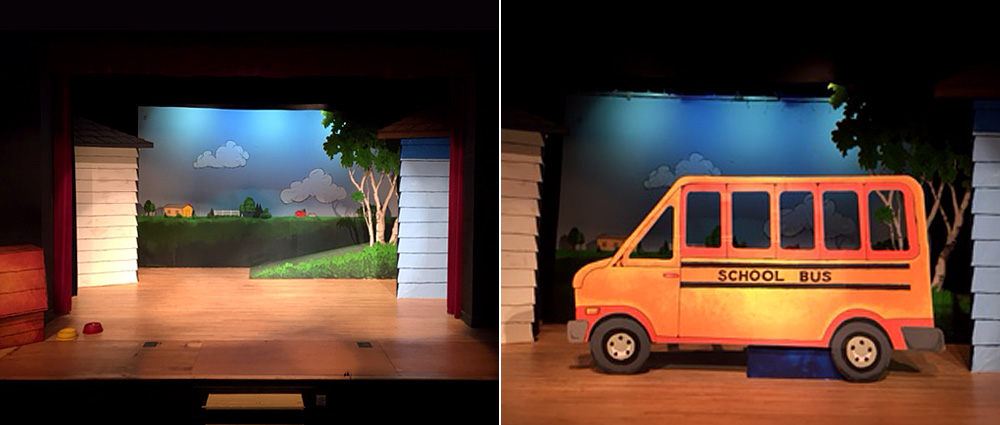 .
.
Footloose
Scenes shift quickly in this show about the freedom to move, so set pieces rolled, slid or swung down onto stage and then off again, the detail implying the whole. The church pew benches of the opening church scene were tipped on end to form the back side of the local gas station.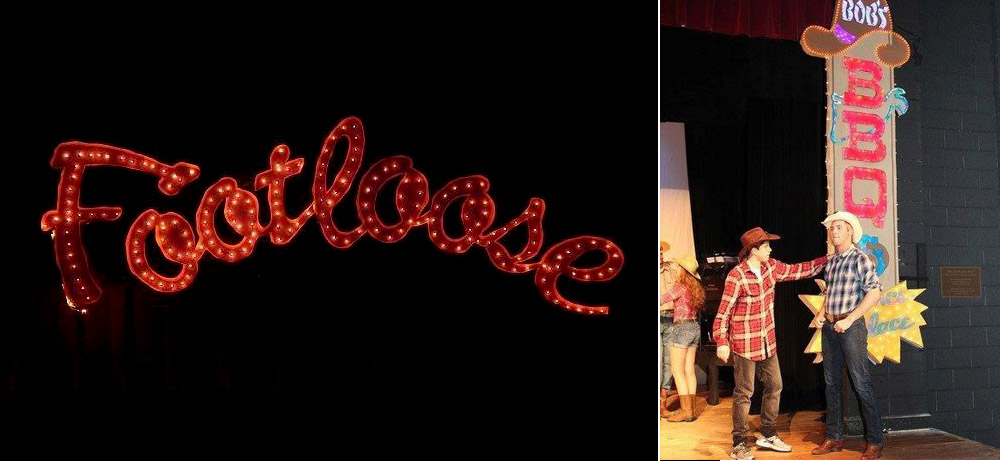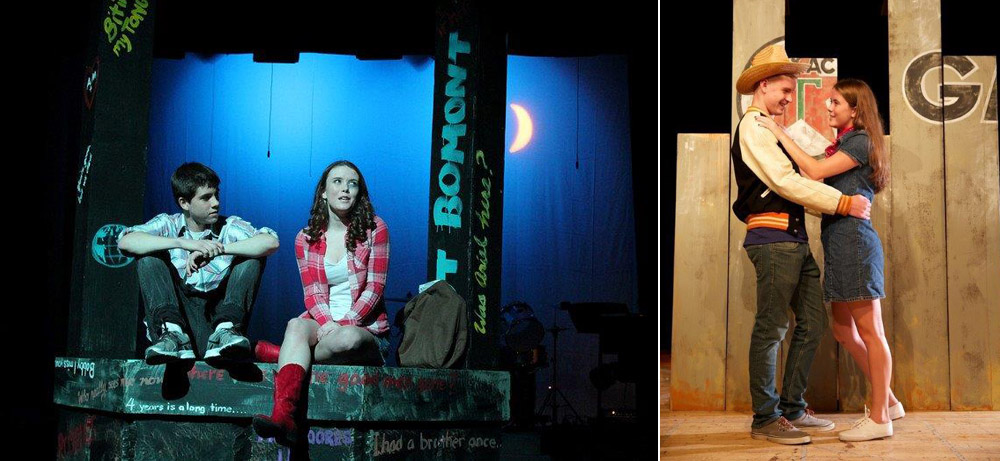 .
.
Urinetown
This retro/futuristic urban grunge toilet was one side of a triangular turntable, serving Cladwell's office and Urinetown's mean streets on other sides. In keeping with the theme of the show, most of this set was constructed from recycled and repurposed objects and materials.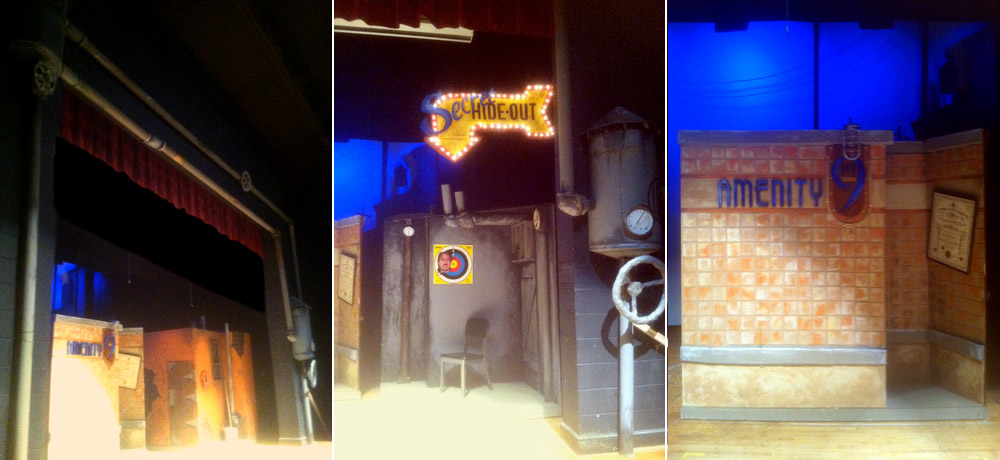 .
.
Oliver!
Every piece of this soot-darkened set could turn, roll, open, pivot or unfold.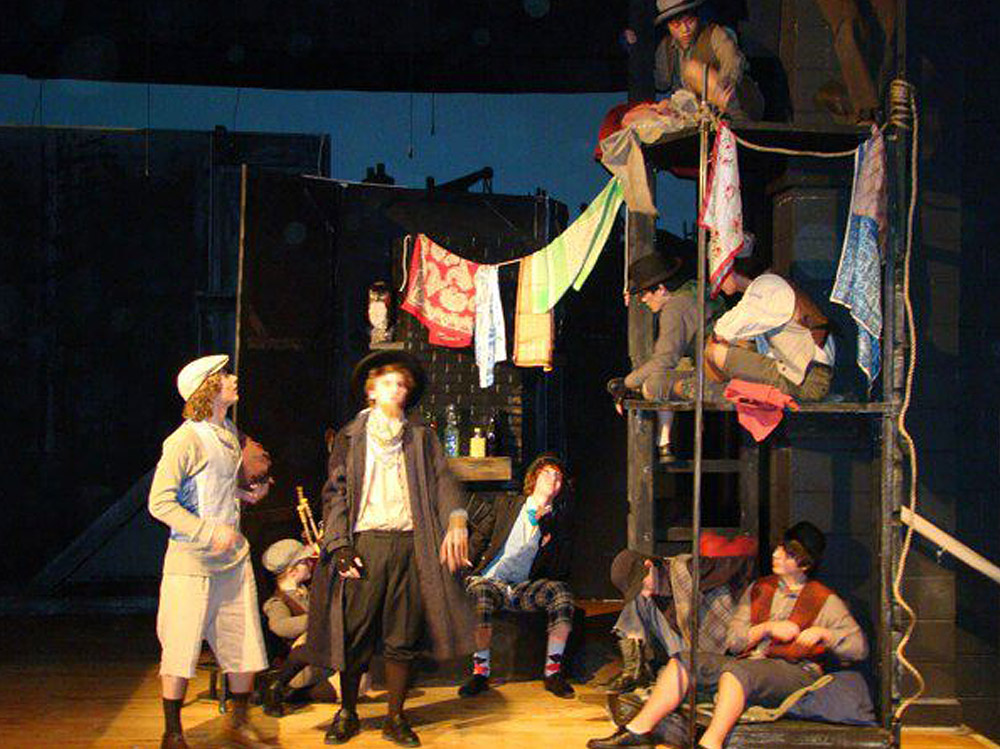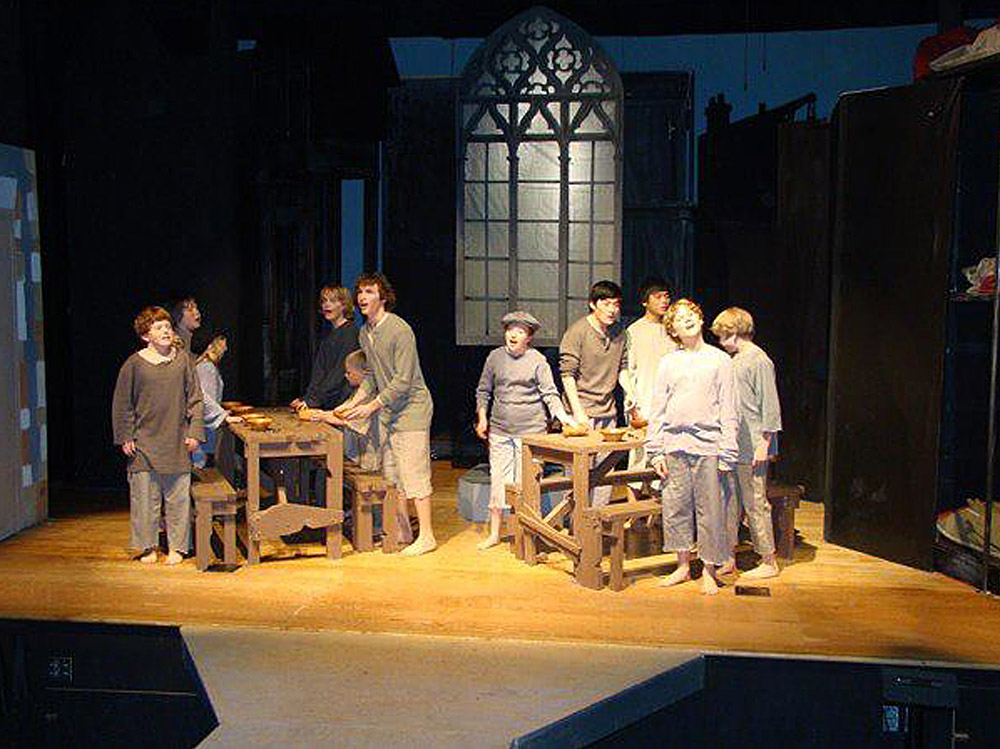 .
.
Pippin
We set this tale of a young man's identity search into an old small-town traveling circus. The front letter panels were lowered in front of a closed red curtain when the house opened. As the first note sounded, the awning rose magically into place overhead. The central unit spun and served multiple purposes, from estate garden to battlefield, cathedral to bedroom, royal court to fire chamber.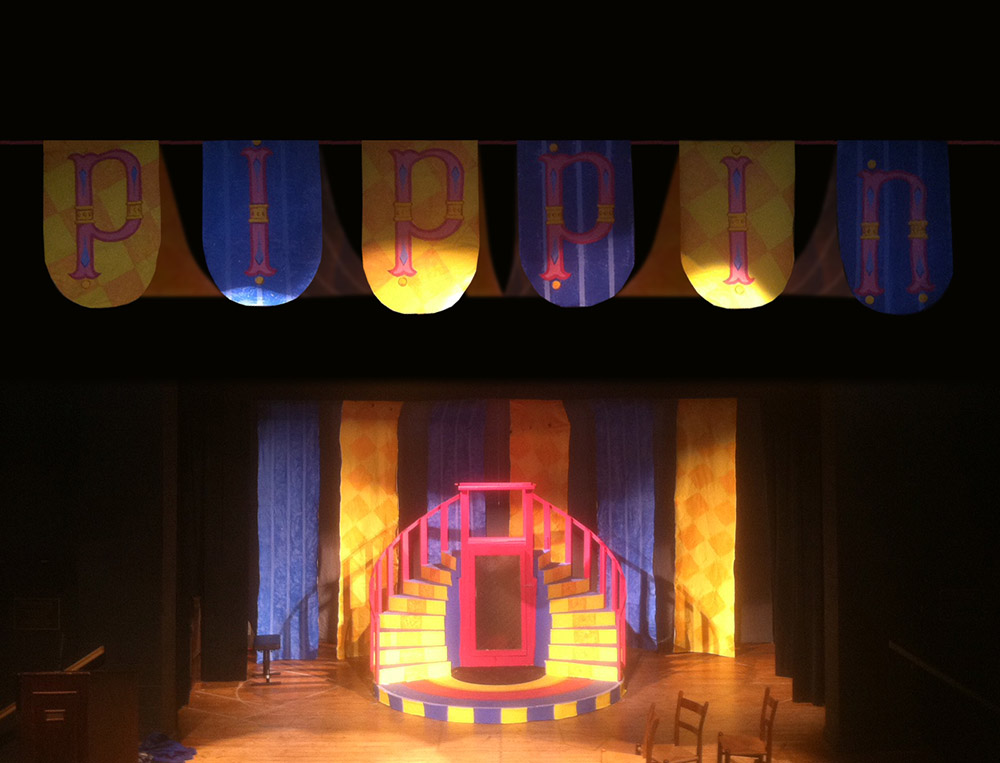 .
.
Joseph and the Amazing Technicolor Dreamcoat
Joseph is a multi-colored cartoon of a show. With almost no backstage or wingspace to work with, we flew in soft goods from above or telescoped them up from the floor. Drawing on an early '70's aesthetic, we created a ten-foot-tall Pharaoh head, twin date palms, lotus-capitaled Egyptian columns and an I M Pei-worthy pyramid.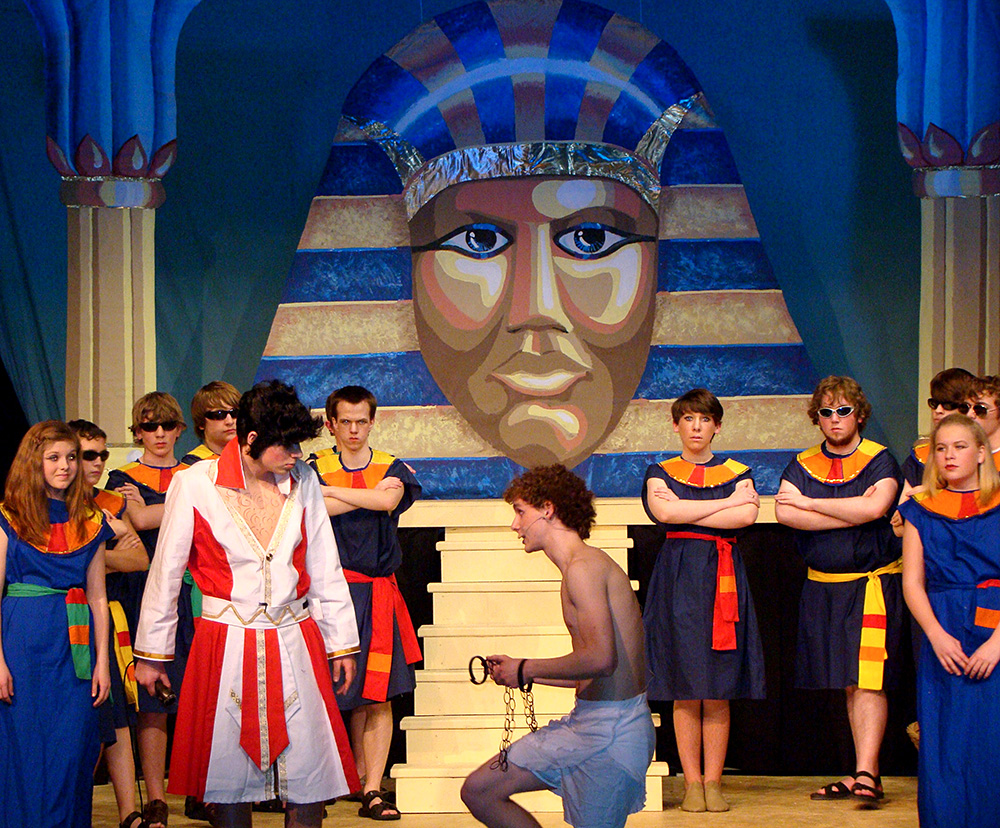 .
.
The Nutcracker
For Charleston Ballet Theater's distinctly Southern take on this Christmas classic, I chose the iconic allee of live oaks unique to Low Country plantations receding to a distant wrought iron gate. Instead of heaped snow, these limbs, branches and moss are ice-covered and backlit by a cold December moon.

Murals
Parisian Café wall mural
A high school French teacher asked for a mural of a Parisian street cafe on her classroom wall. The permanent-marker-and-acrylic result was done in the loose, breezy mid-century French illustrator's style.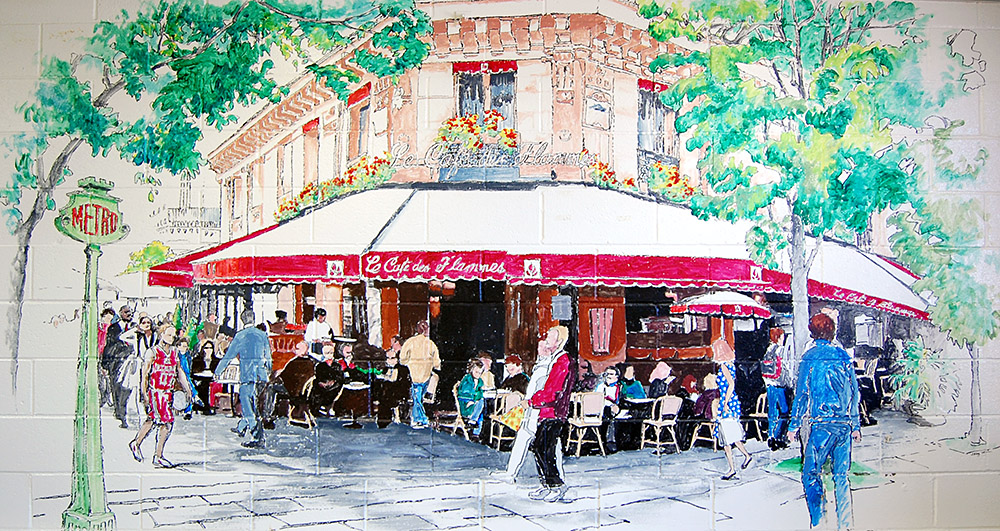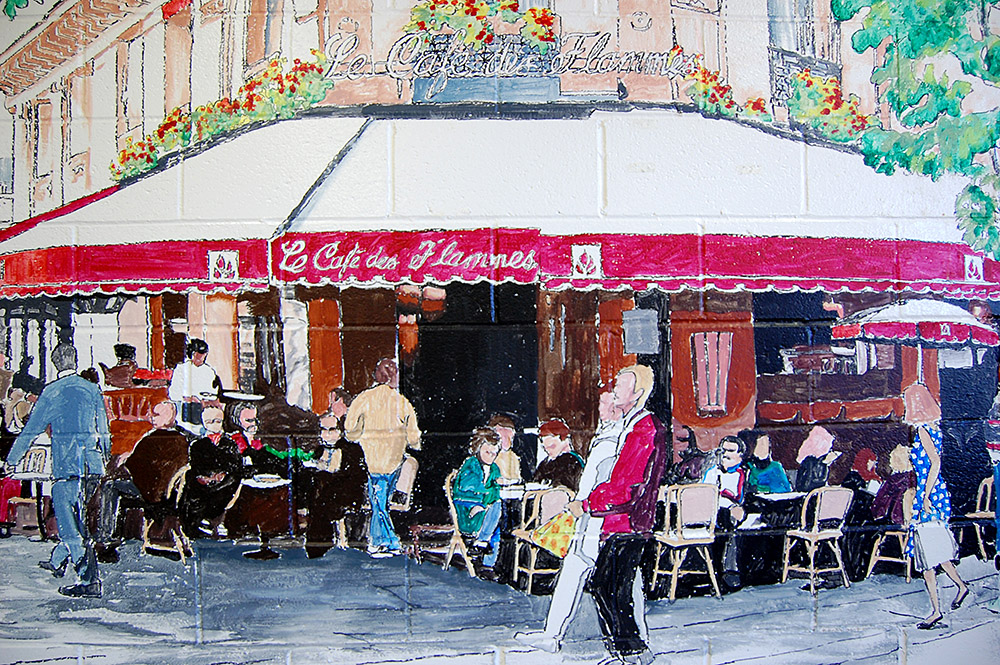 .
.
Swedish folk art above fireplace
The client, of Swedish ancestry, wanted an interpretation of folk art flowers and vegetation in the Swedish style in the niche over their fireplace. Traditional floral motifs are combined with references to north-central Ohio plants (dogwood and black-eyed susans) and all four seasons (including two wintry snowflakes amidst all the blossoms and leaves). The Aldo Leopold quotation above is the theme of the whole, large room: the client has hundreds of loon depictions all around the space.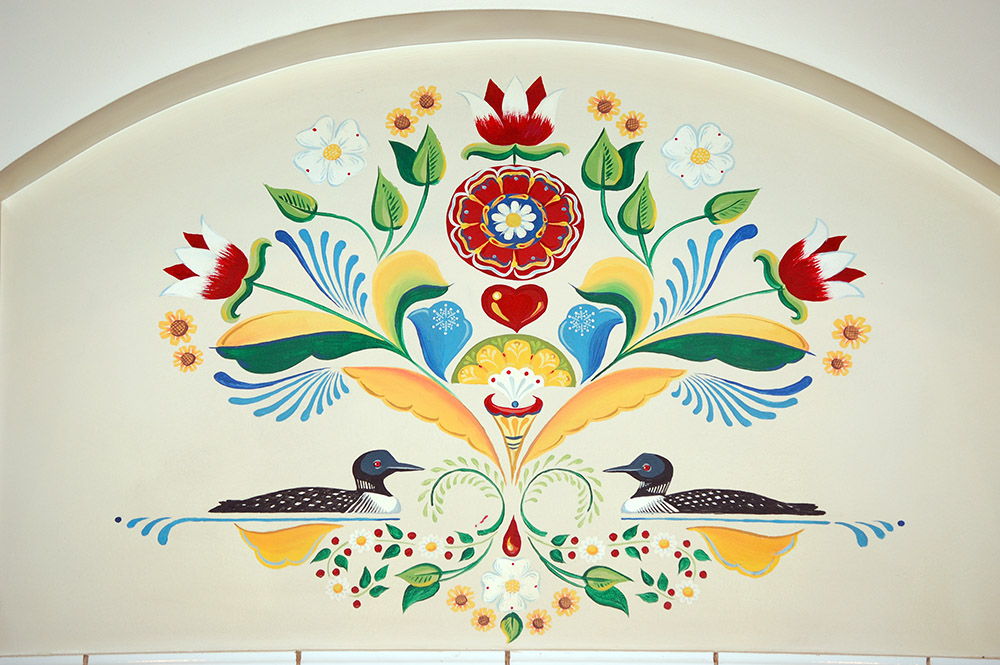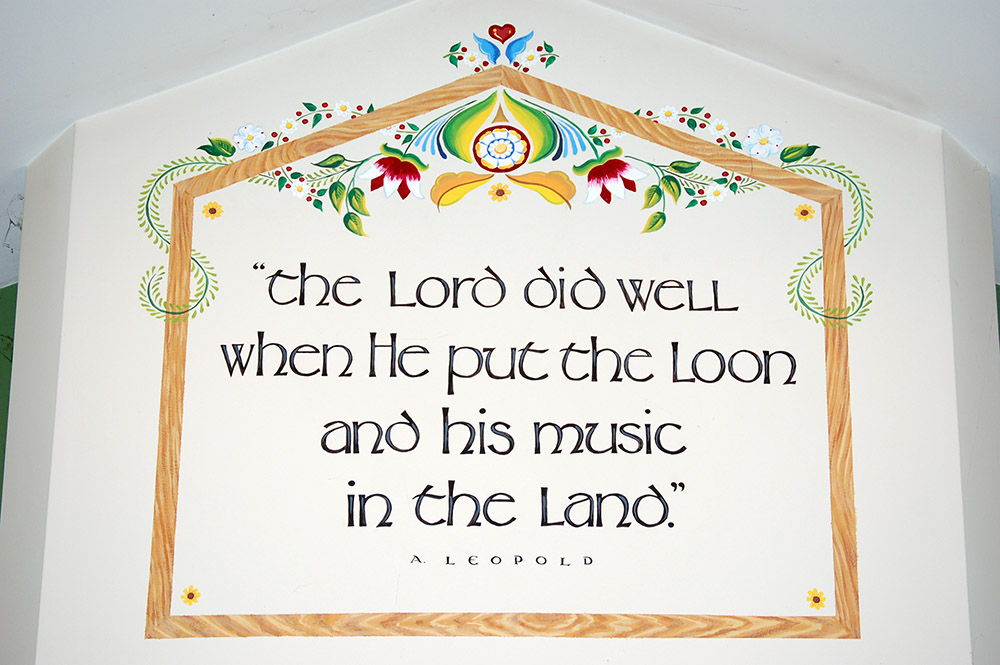 .
.
"Fried Green Tomatoes" window mural
The clients' family film favorite is "Fried Green Tomatoes." In the small space of their guest half-bath, they asked for a trompe l'oeil painting of the window of the Whistle Stop Cafe, bullet hole and all.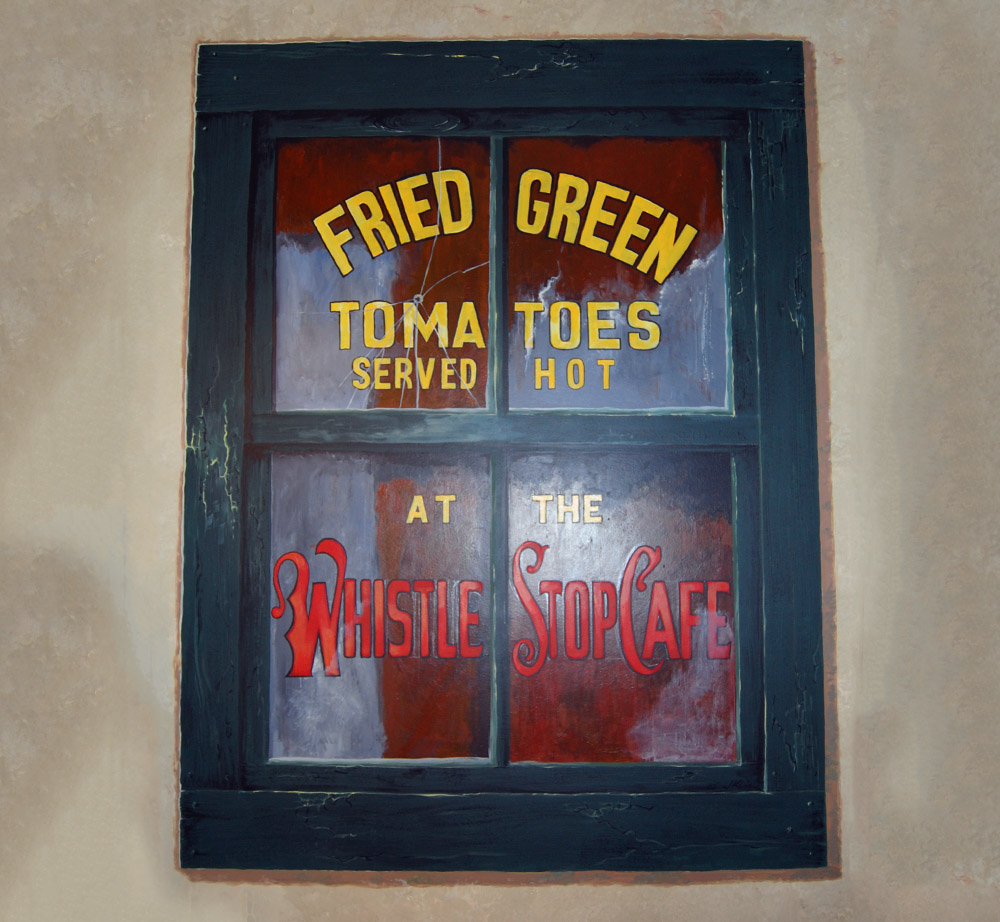 .
.
Floral vine mural
The bedspread and curtain floral vine pattern was reinterpreted on the wall over the twin beds to form two visual niches, one for each bed.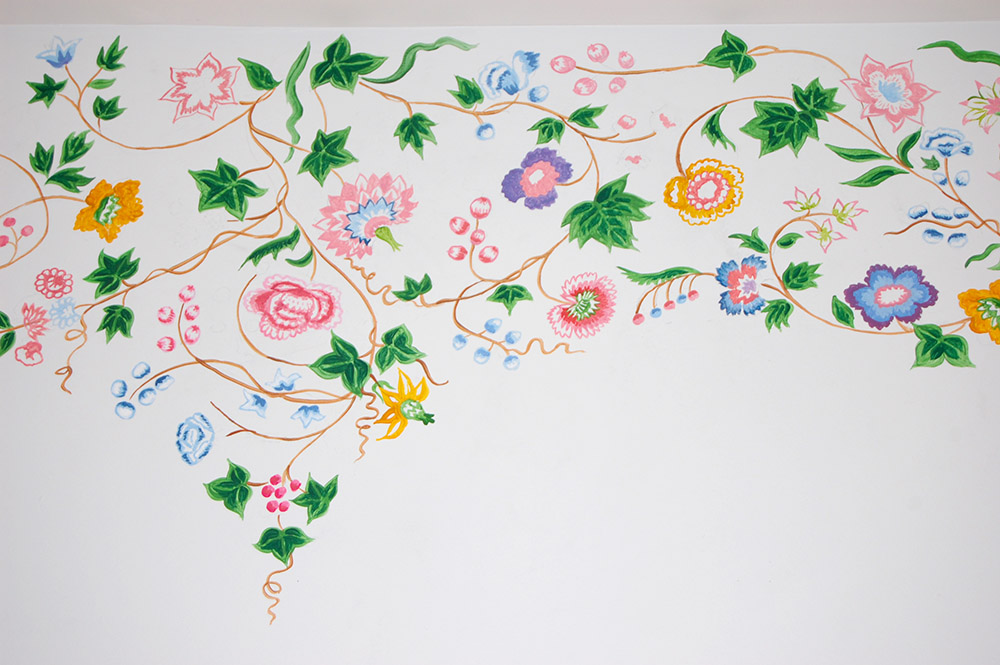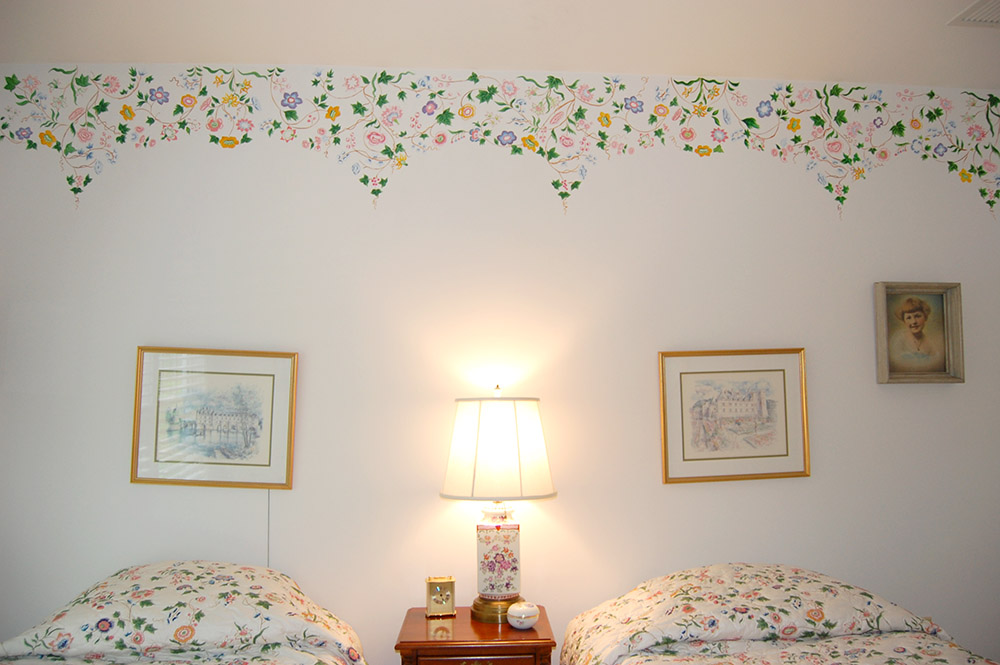 .
.
Ceiling floral mural
If you have a low ceiling in a second-floor family room, why fight it? Call attention to it by painting a "ceiling rug" pattern overhead derived from the hooked rug in the middle of the room.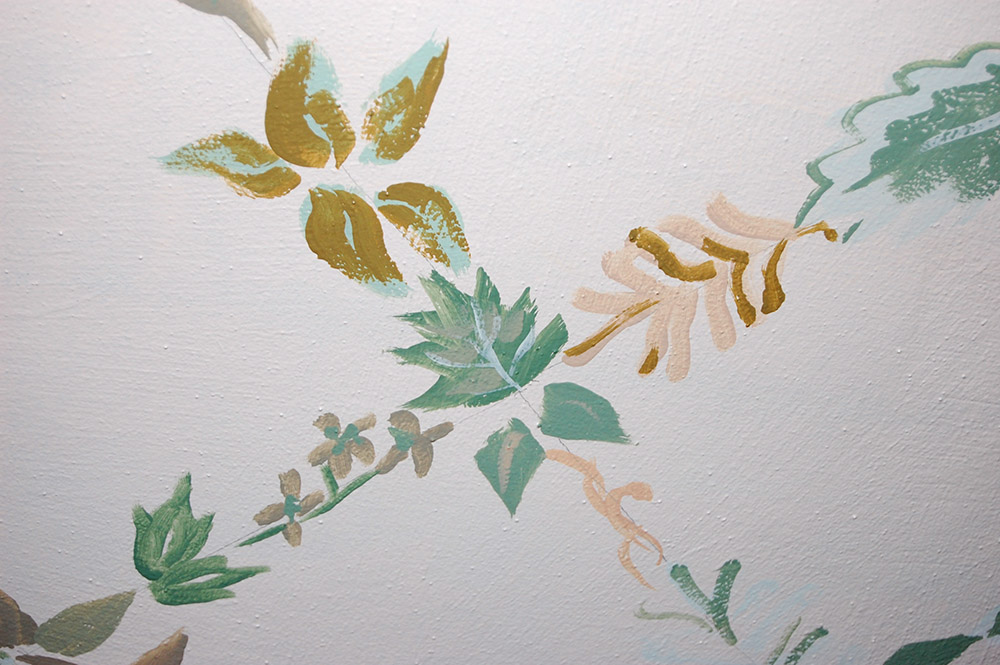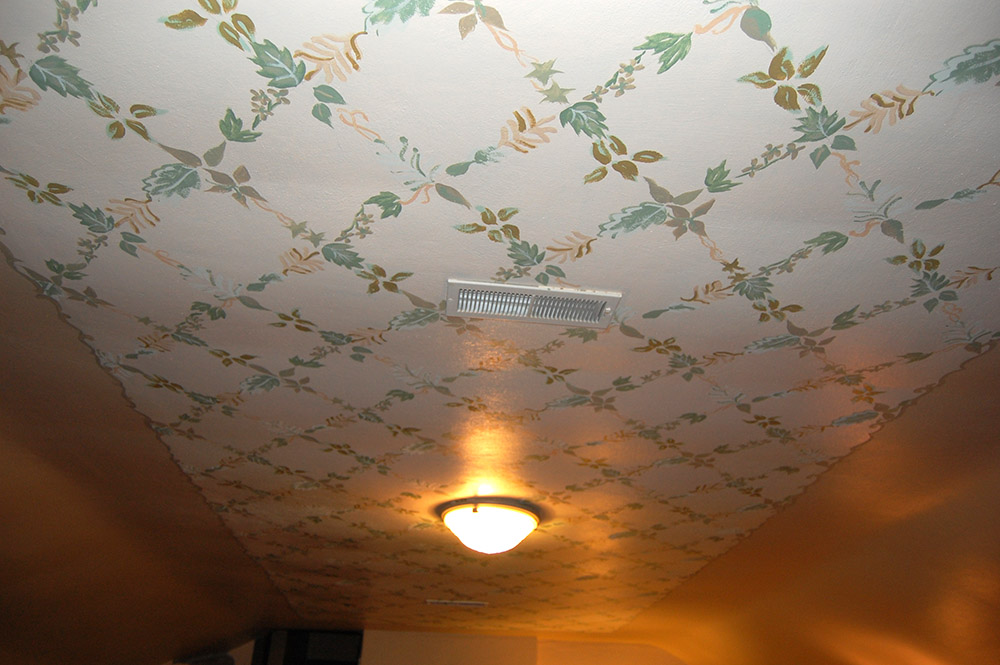 Text & Calligraphy
Gates of Blue Ridge sign
For a high school art show, the students recreated Renaissance bronze door panels and displayed them on either side of the gallery entrance under this title board.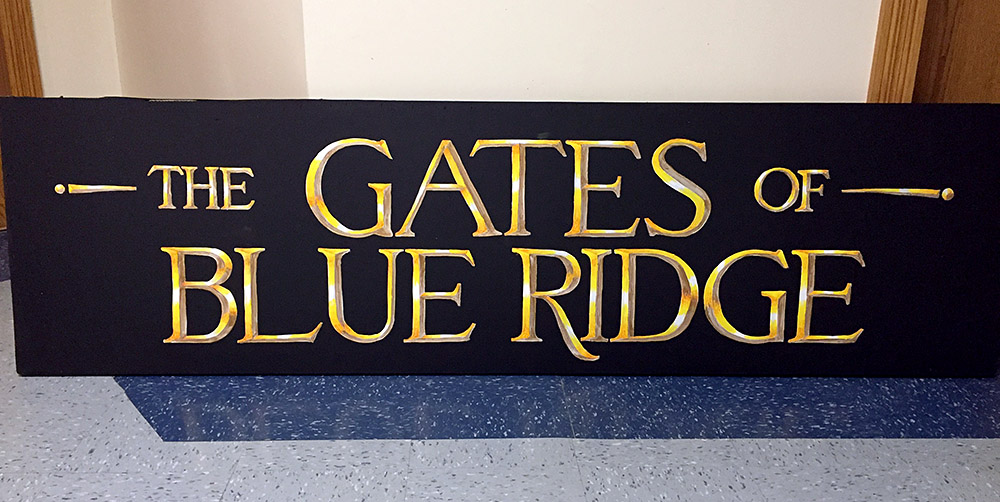 .
.
"Fried Green Tomatoes" window mural
The clients' family film favorite is "Fried Green Tomatoes." In the small space of their guest half-bath, they asked for a trompe l'oeil painting of the window of the Whistle Stop Cafe, bullet hole and all.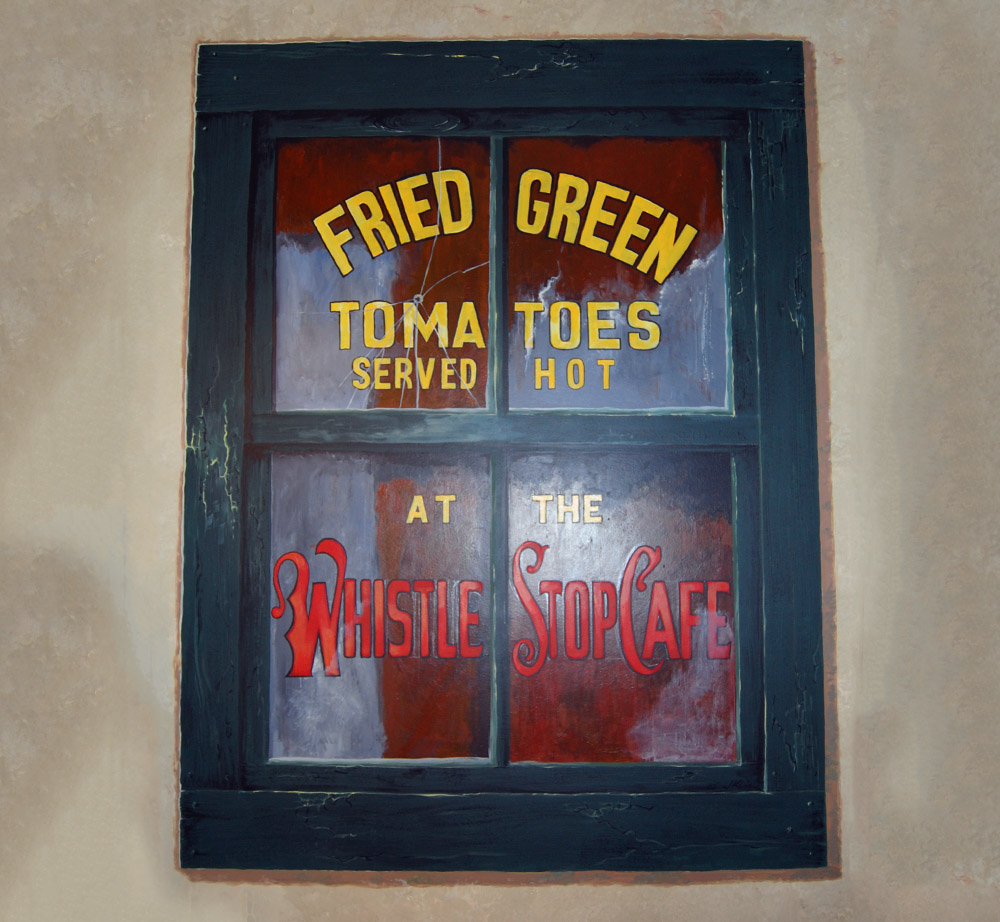 .
.
Library room wall
This bay window looks out over a bed of daylilies. Hence the scripture text to "consider the lilies" in gold. The side panels combine Swedish folk art plant motifs with Crawford County, Ohio's own clover, wheat, coneflower and daylilies.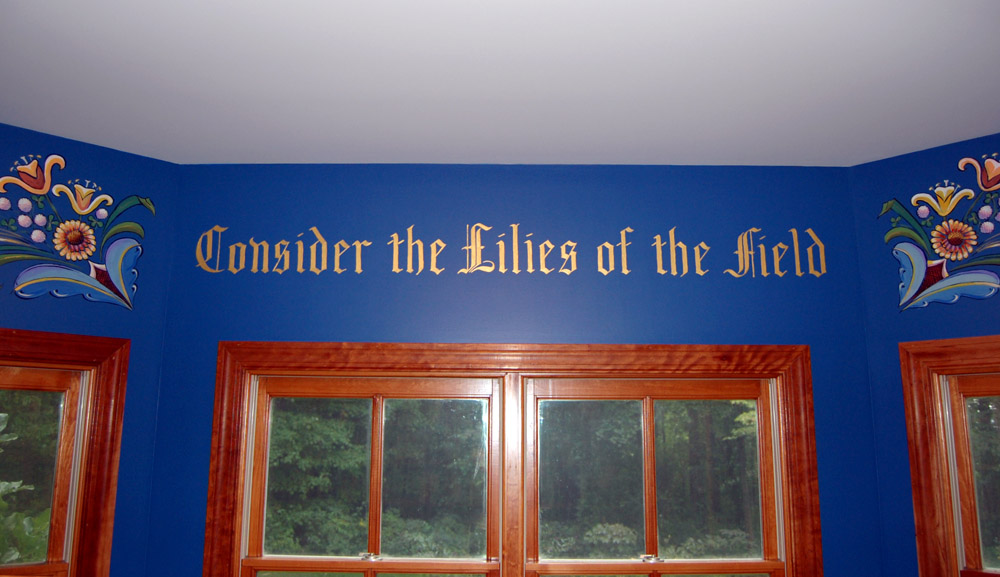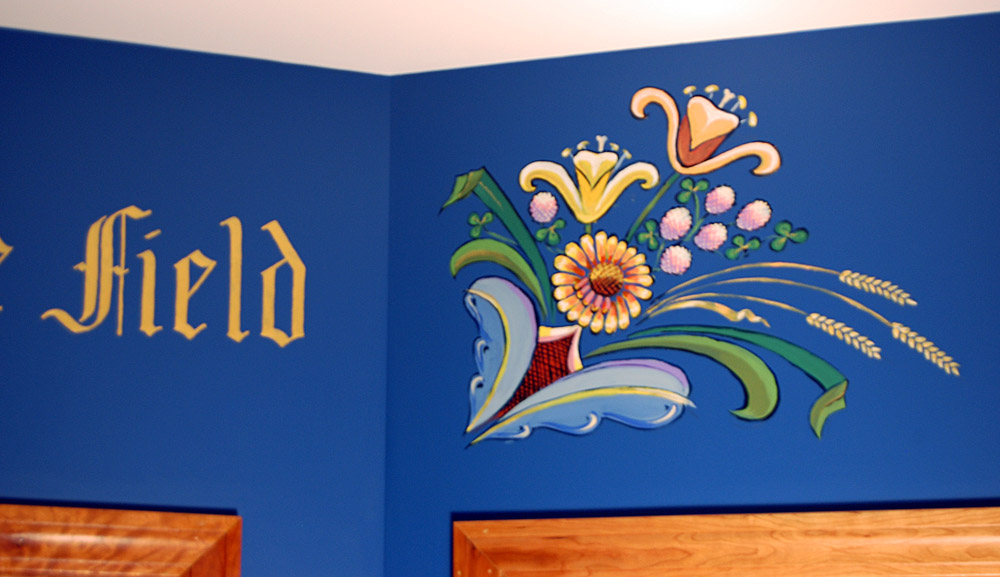 .
.
Entry hall welcome
The client wanted to greet all who enter their home with some wisdom from Proverbs. Both the lettering style and the decorative foliage elements are done in a more refined Swedish wall painting style.