Design System—Snap Medical Industries
Snap Medical Industries was founded in 2015 to help save costs for healthcare providers who save lives in anaphylactic emergencies; their epinephrine kits are registered with the FDA and carried by wholesalers nationwide.
Design system includes:
logo
marketing pieces and ads
product packaging
trade show displays
"When launching my startup medical manufacturing company in 2015, I chose Eric King to lead all design projects; his design aesthetic and ability to listen stood above the others interviewed. As our business has grown, he has created a suite of cohesively-branded products while working with packaging regulatory and compliance teams. Eric has gone above and beyond in being responsive to our time-sensitive needs and always produces beautiful work which has contributed to our success."
— Nancy C. Stamps RN
President, Snap Medical Industries
Design System—Harvest Financial Advisors
Harvest Financial Advisors is a team of seasoned professionals committed to helping clients grow, protect, and enjoy their wealth. Services include wealth management, planning, and investment management solutions.
Design system includes:
logo
print ads
architectural graphics
"Eric King has been a fantastic design partner to Harvest Financial Advisors for many years. He provides thoughtful guidance and valuable insight as we seek to expand our message and help more people. I highly recommend King+Sons Design Garage."
— Paul Burgdorf
Senior Vice President, Harvest Financial Advisors
Book Design—The Hack Mechanic
Rob Siegel has been writing the monthly column The Hack Mechanic™ for BMW CCA Roundel magazine for 34 years and is author of seven automotive books. Rob's website | Rob's Amazon's page | Rob-related posts on our project car website
Book design for:
The Best Of The Hack Mechanic, 2021, 335 pages
The Lotus Chronicles, 2020, 510 pages
Resurrecting Bertha, 2019, 270 pages
Just Needs a Recharge, 2018, 236 pages
Ran When Parked, 2017, 202 pages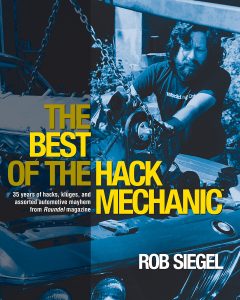 "I'm the author of seven published automotive books, and Eric has been the designer (both cover and interior) of the last four. He's a joy to work with—creative, flexible, reasonable—which allows me to focus on content while knowing he'll come up with an elegant design. His fabulous sense of humor manifests itself in prank book covers which are valuable as teasers for social media."
– Rob Siegel, The Hack Mechanic™
Brochure Design—Kentucky Symphony Orchestra
The KSO was formed in 1992 with a mission to make classical music attractive, accessible and affordable to people in the Northern Kentucky and Greater Cincinnati area.
Pictured below:
Subscription Series brochures from 2015, 2016, and 2020
Gala invitations from 2015 and 2019
"Eric King has been the Kentucky Symphony Orchestra's graphic designer since 2009. It's great when your designer listens to what you really need and delivers quality."
— James R. Cassidy, KSO Music Director and Founder
K Homes was founded in 2005 to bring sustainable design to the mainstream. Houses feature the latest technology in a super-insulated shell for energy-efficiency and whole-home comfort.
Design system includes:
"Eric King has a unique ability to deliver a powerful message about your company's brand without using too many words. His web and print designs redline your company's focus in a very simple but sophisticated way, delivering a convincing message to your customers."
— Gene Kopaygorodsky, K Homes
Design System—Harold Joe Waldrum
Harold Joe Waldrum (1934-2003) was a New Mexico artist known for paintings and prints of adobe churches.
Design system includes:
"When I needed a logo and website design for a project I was too close to, Eric created a clean, long-term solution."
— Ruanna Waldrum, daughter of the artist
Design System—Over the Rhine
Over the Rhine is an Ohio-based band with over 20 recordings released since their start in 1989.
Design system includes:
email newsletters
trade promo sheets, stickers, etc.
"Eric King has often been our "go to" for clear, concise design solutions—especially when the need was timely. He also helped design a website which consistently receives a notable amount of fan engagement—both from those just discovering our music and those who have been following our music for years. We highly recommend his design services."
— Linford Detweiler, Over the Rhine
Design System—Fountain Square Roundie
Fountain Square Roundie is our father-daughter project car which started in 2016. Our objectives are to 1) Have Fun, 2) Meet People, and 3) Ultimately Drive.